During several years I've been setting mailing lists I admin to only accept posts from subscribers i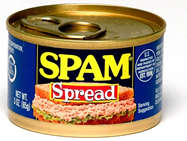 n order to avoid having to deal with very large amounts of spam posts.
While that is slightly awkward to users of the list, the huge benefit for me as admin has been the deciding factor.
Recently however, I've noticed how this way to prevent spam on the mailing lists have started to fail more and more frequently.
Now, I see a rapid growth in spam from users who actually subscribe first and then post their spam to the list. Of course, sometimes spammers happen to just fake the from address from a member of a list – like when a spammer fakes my address and sends spam to a list I am subscribed to, but it's quite obvious that we also see the actual original spammer join lists and send spam as well.
It makes me sad, since I figure the next step I then need to take on the mailing lists I admin is to either spam check the incoming mails with a tool like spamassassin (and risk false positives or to not trap all spams) and/or start setting new members as moderated so that I have to acknowledge their first post to the list in order to make sure they're not spammers.
Or is there any other good idea of what I can do that I haven't thought of?