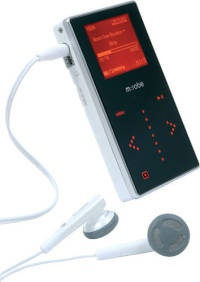 For some reason I haven't previously properly pushed this fact here:
The Rockbox port for the Olympus M:Robe 100 is soon about to enter the fine room of all the other existing Rockbox ports. It seems most stuff is working in this port now, and with bootloader and daily zips on the download mirrors there's only a few minor things left before it'll go in among the other zips on the build page!
The mrobe100 is a mi4-using PortalPlayer-based (PP5020) target with a monochrome LCD. Here's the proper forum thread.
Most of the magic stuff done on this port seems to have been pulled off by Mark Arigo with Robert Kukla doing a fair share as well. Thanks guys!