As probably one of the last humans on earth, I got my paper version of Linux Journal's April 2008 issue in my mailbox today. While I've felt that the magazine has slowly degraded over the last years, this issue certainly made me all warm and fuzzy inside since it contains not one but two articles on subjects very dear to me. A three-page article was dedicated to a Rockbox review (subscription-required-to-read link) named "iPod + Rockbox =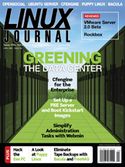 Entertainment Extravaganza" and there was a two-page article on how to use curl (another paid-subscription-required link)to fiddle with a web interface named "Twittering from the Command Line".
I have a hard time to put a finger on exactly why I feel that the magazine has lost some of its past qualities but I've noticed that I finish the magazine much faster these days and I generally skip over more uninteresting articles. I haven't really investigated this, but it may very well be because a shift in focus in the magazine. I tend to be interested in low-level, kernel, OS, hardware-touching, libraries and related stuff. Not so much in high-level applications or web frameworks and more user and desktop oriented fluff.
I should also add that the Rockbox review was pretty good. Not perfect in any way since it contained errors, was for an old boring grayscale-ipod target and suggested that the original OS is better suited for playing music… The article that mentioned curl wasn't really about curl but only showed how it can be used but it was mentioned in positive terms at least!