Recently I've read two books (in Swedish) about China and the Chinese, and I'll offer some quick reviews on them here.

Inga problem! : om livet i dagens Kina
(ISBN: 9789127356375, Author: Lilliehöök, Catarina)
This is a 320 page story about the author's trip to China. She studies Chinese, lives in China, travels around and eventually gets a work there. We get to follow the cultural clashes when a blond Swedish woman faces the (traditional) Chinese. It certainly is interesting and educational, but the book is a bit repetitive towards the end as the main point has already gone through by then. The book is however still a light and fast read.
Vilda svanar РTre d̦ttrar av Kina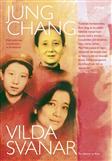 (ISBN: 9789151845678, Author: Jung Chang, English title: Wild Swans)
This international best-seller is a 500+ page novel about three generations of Chinese women. The author's grandma, mother and herself. Starting in the early 1900s over the years and the major changes that the poeple of China went through, all the way to modern time.
While a slightly harder read, I'd say this is much more interesting in comparison to the previous one, and it offers a great insight to why many of the cultural differences mentioned in the first book exist in the first place. It shows a people tormented by their leaders in many different ways, and a people that have learned the hard way to obey whatever they say and to stop thinking by themselves.