What doesn't a man do when there's a free t-shirt involved?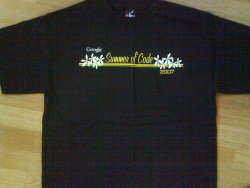 I was Google Summer of Code admin for project Rockbox, and it did result in some cool new code. As newbies this year we of course did a bunch of mistakes that we hope to get a chance to correct if we're allowed to participate again…
I also volunteered as a mentor, but we had something like nine or ten guys stepping forward, we got a lot of students applying for various projects but in the end we were given four slots by Google so I ended up not having to mentor anyone this time.
Apparently, this involvement was good enough for me to be given a shirt, and it arrived in my mailbox today and I took a few crummy shots with my lousy camera in my phone and I thought I'd share them with you!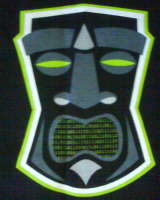 On the backside there's this weird face with a monster-like guy (much appreciated by my daughter!) with binary numbers in its mouth. It wouldn't surprise me at all if the binary does mean something if we translate it to ascii… for a second or two I was about to investigate it, but then I lost my motivation and bah, why bother?!
Did anyone else check yet?