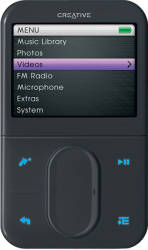 Maurus Cuelenaere has been doing some great progress recently and is now capable of running custom code on the Creative Zen Vision:M target.
The work is now in full progress to make the Rockbox bootloader actually run on it. The LCD seems to work and buttons are in the works…
If you haven't joined before, now's a perfect opportunity to dig up that old Creative's of yours and join the Rockbox bandwagon as it starts to roll on yet another target!
It is a TMS320DM320 target, and all the hw info you need is here.