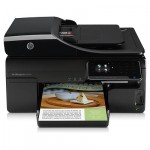 After my printer died, I immediately ordered a new one online and not long afterwards I could pick it up from my local post office. As I use both the scanner and the printer features pretty much I went with another "all-in-one" model and I chose an HP model (again) basically because I've been happy with how my previous worked (before its death). "HP Officejet Pro 8500 A910" seems to be the whole name. And yeah, it really is as black as the picture here shows it.
This model is less "photo-focused" than my previous but I never print my own photos so that's no loss. What did annoy me was however that this model uses 4 ink cartridges instead of the 6 in my previous, but of a completely different design so I can't even re-use my half-full ink containers from the corpse!
My new printer has some fancy features. It is one of them that I can give an email address and then print on by sending email to it. The email address then gets a really long one with lots of seemingly random letters, it is in the hp.com domain and I can set up a white-list of people (From: addresses) that is allowed to print on it via email.
It also has full internet access itself so it could fetch a firmware upgrade file and install that entirely on its own without the use of a computer. (Which made me wonder if they use libcurl, but I realize there's no way for me to tell and of course there are many alternatives they might use.)
Driver-wise, it seems like a completely different set for Windows (hopefully this won't uninstall itself) and on Linux I could install it fine to print, but xsane just won't find it to scan. I intend to instead try to use the printer's web service for scanning, hopefully that will be roughly equivalent for my limited use – I mostly scan documents, bills and invoices for my work.