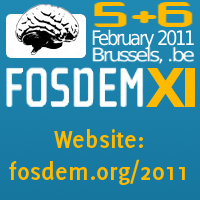 We're going to FOSDEM again. This year we'll ship over the entire company (all three of us) and we'll join up with a few fellow Rockbox hackers and spend a weekend in Brussels among thousands of fellow free software and open source hackers.
During this conference, 5-6 February, I've submitted a libcurl-related talk to the embedded-room that wasn't accepted into the regular program, but I've agreed to still prepare it and I then might get a slot in case someone gets sick or something. A bit ungrateful as now I still have to prepare my slides for the talk but there's a big risk that I've done it in vain! I've also submitted a suggestion for a second talk in the opensc/security room (also related to stuff in the curl project) but as of now (with but 16 days left) that schedule is yet to be announced so I don't know if I'll do a talk there or not.
So, I might do no talks. I might do two. I just don't know. We'll see.
If you're a friend of mine and you're going to FOSDEM this year, please let me know and we can meet and have a chat or whatever. I love getting faces to all the names, nicks and email addresses I otherwise only see of many people.
Update: My talk in the security room is titled "libcurl: Supporting seven SSL libraries and one SSH library" and will start at 14:15 on Saturday the 5th of February.