The last couple of days I've received a number of Swedish spam emails and I started digging up the Swedish companies behind them. The vast majority of all spams I get and have gotten during the years are English, so the Swedish ones stand out and they are a relatively new thing.
There seems to be a range of companies that now offer "email marketing" as a service to other companies. And there are lots of companies apparently willing to use such services. The other day the somewhat respected ISP company Crystone for example went ahead and spammed "a few hundred K recipients (link to a Swedish-speaking forum). I've long been annoyed by the repeated spam mails I get from the company Jajja, which apart from being in the snake oil business (SEO) seems to be a legitimate business that wants to be taken seriously. Of course, they have a shady history of bad business ethics (link to Swedish article about Jajja doing blog-comment spamming in 2007).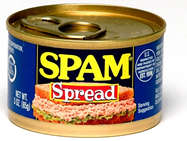 Crystone's excuse for their spam outburst was that they had bought this list of "verified" and "opt-in" addresses (from big-time spammer company mailcom.se) so they were quite surprised when large amounts of people started complaining and whining about their spam. mailcom.se, unsurprisingly, on their site boast to also have Jajja as customers. I have emailed mailcom.se and complained in strongly worded terms. I expect no response or effect.
Hejsan

Detta är ett av tjogtals (hundratals?) spam email jag fått från er. Ni har hittat/köpt denna email-address genom web-scraping och ni och era kunder är inget annat än spammare. Det är illegalt i Sverige och att betrakta som ett vedervärt sätt att försöka marknadsföra någonting.

Fy skäms!
The above is the email text I sent. It could be translated into English like:
Hello

This is one of the many (hundreds?) spam emails I've received from you. You found / bought this email address by web-scraping and you and your customers are nothing but spammers. It is illegal in Sweden and to be regarded as a horrible way of trying to market anything.

Shame on you!
Newsflash: there is no such thing as a blanket list with verified and opt-in email addresses. You may get people to opt-in for a particular and well explained purpose, but nobody ever asked anyone if they wanted to get stupid market emails from Crystone without compensation. Who would have opted-in to something like that?
Legality? People here in Sweden are quick to point out that sending market emails to companies and other business is not illegal here. Although, as is easily proven, these guys don't know who they target as their list clearly is created by old fashioned web scraping techniques and they send to anyone, individuals and companies – without discrimination. Besides, my biggest complaints against spam is that it is a nuisance and a pain, if it is illegal or not is not the biggest concern to me. Spam is spam no matter what.
I've also explicitly tweeted about the spam service provided by quicknet.se. They're at least somewhat open about it and add a header in their outgoing mails claiming them to be from "QuicNet_AB" (notice how the letter k is absent). I've received several spams via their domain gallerian.org so there's no doubt who's behind them. These mails also have ended up targeted to email addresses that are without any doubt harvested from the web. An employee of quicknet responded to me (in Swedish), apparently surprised by my allegations but I've received no further info. But frankly, I don't care what excuse they can come up with. It will only be something lame as this is not a mistake.
Other seemingly popular Swedish spam companies include epostservice.se/com, epostarna.se and so on. I wish more people will react on the spam and object to the companies that buy these services (in good faith or not) and to the companies that provide these services. Tell them it's all spam, no matter what excuses they can figure out!
PS. Yes, this is the same Crystone I've written about before…