This year, 670 individuals spent some of their valuable time on our survey and filled in answers that help us guide what to do next. What's good, what's bad, what to remove and where to emphasize efforts more.
It's taken me a good while to write up this analysis but hopefully the results here can be used all through the year as a reminder what people actually think and how they use curl and libcurl.
A new question this yeas was in which continent the respondent lives, which ended up with an unexpectedly strong Euro focus: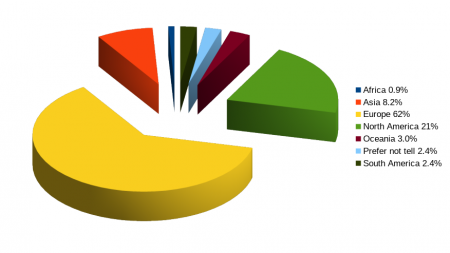 What didn't trigger any surprises though was the question of what protocols users are using, which basically identically mirrored previous years' surveys. HTTP and HTTPS are the king duo by far.
Read the full 34 page analysis PDF.
Some other interesting take-aways:
One person claims to use curl to handle 19 protocols! (out of 23)
One person claims to use curl on 11 different platforms!
Over 5% of the users argue for a rewrite in rust.
Windows is now the second most common platform to use curl on.