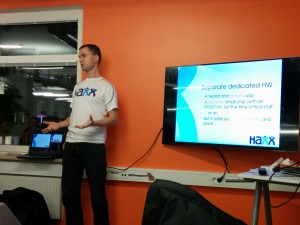 So I flew down to and participated at yet another embedded Linux hacking event that was also co-organized by me, that took place yesterday (November 20th 2013) in Gothenburg Sweden.
The event was hosted by Pelagicore in their nice downtown facilities and it was fully signed up with some 28 attendees.
I held a talk about the current situation of real-time and low latency in the Linux kernel, a variation of a talk I've done before and even if I have modified it since before you can still get the gist of it on this old slideshare upload. As you can see on the photo I can do hand-wavy gestures while talking! When I finally shut up, we were fed tasty sandwiches and there was some time to socialize and actually hack on some stuff.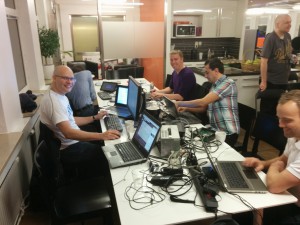 I then continued my tradition and held a contest. This time I did raise the complexity level a bit as I decided I wanted a game with more challenges and something that feels less like a quiz and more like a game or a maze. See my separate post for full details and for your chance to test your skills.
This event was also nicely synced in time with the recent introduction of the foss-gbg mailing list, which is an effort to gather people in the area that have an interest in Free and Open Source Software. Much in the same way foss-sthlm was made a couple of years ago.
Pelagicore also handed out 9 Raspberry Pis at the event to lucky attendees.