After a very long time of work, a very very long time since these devices were introduced on the mp3 player market, the hard working guys from freemyipod.org have produced something on yet another device. This is the same group that previously was called linux4nano and worked so long and fiercely to get code running on the 2nd generation iPod Nano and the 4th generation iPod Nano.
At the end of December 2010, Michael "TheSeven" Sparmann announced that he was running custom code including music playback on the iPod Classic. The (sometimes) so called 6th generation.
Robert Menes spiced up the story today by showing us a live picture of a Classic device that now actually is running Rockbox: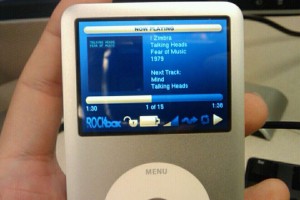 Awesome work Michael, truly impressive. I hope a lot of Classic owners soon will be able to try out Rockbox for real. Rockbox is said to not yet be very stable or functional, so there's a lot of room for more hackers and developers to join in and help us improve!