I created another contest for the Embedded hacking event we just pulled off again, organized with foss-sthlm and Enea. Remember that I made one previously at our former hacking day?
The lesson from that time was that the puzzle ingredient then was slightly too difficult so people had to work a bit too long. It made many people give up and the ones who didn't had to spend a significant time on solving it.
This time, I decided to use the same basic principle: ask N questions that all provide hints for the (N+1)th question, so that the first one to give me the answer to that final question is the winner. It makes it very easy for me to judge and it is a rather neat competition style game. I decided 10 questions should be enough.
To reduce some of the complexity from last time, I decided to provide the individual clues in the correct chronological order but instead add another twist: they aren't in plain text! But since they're chronological, the participants can go back and quite "easily" try other alternatives if there are some strange words appearing in the output. I made sure that all alternatives always have fine English alternatives so that if you pick the wrong answer it might still sound or look like English for a while…
I was very happy to see over 30 persons in the room that decided to accept the challenge. I suspect the prize did its part in attracting people to give it a go.
The rules in slightly longer terms as I put them (click it to see a higher resolution version):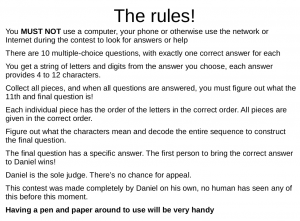 And I clarified how the questions work: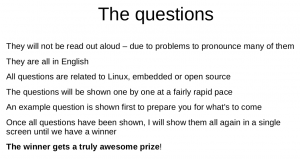 I then started my timer, and I showed all the questions on the projector to everyone. I gave them around 40 seconds per question. It thus took almost seven minutes to go through them and then I left a final slide up showing all questions: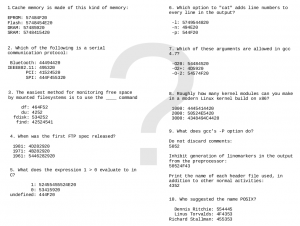 To allow readers to give this contest a go first before checking the answers. See the full answer and explanation.