I had to ask. Just to get a notion of which Windows versions our users are actually using, so that we could get an indication which versions we still should make an effort to keep working on. As people download and run libcurl on their own, we just have no other ways to figure this out.
As always when asking a question to our audience, we can't really know which part of our users that responded and it is probably more safe to assume that it is not a representative distribution of our actual user base but it is simply as good as it gets. A hint.
I posted about this poll on the libcurl mailing list and over twitter. I had it open for about 48 hours. We received 86 responses. Click the image below for the full res version: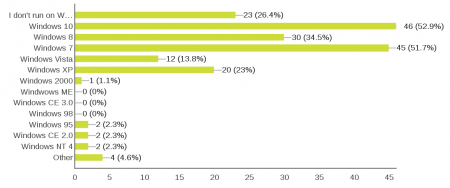 So, Windows 10, 8 and 7 are very well used and even Vista and XP clocked in fairly high on 14% and 23%. Clearly those are Windows versions we should strive to keep supported.
For Windows versions older than XP I was sort of hoping we'd get a zero, but as you can see in the graph we have users claiming to use curl on as old versions as Windows NT 4. I even checked, and it wasn't the same two users that checked all those three oldest versions.
The "Other" marks were for Windows 2008 and 2012, and bonus points for the user who added "Other: debian 7". It is interesting that I specifically asked for users running curl on windows to answer this survey and yet 26% responded that they don't use Windows at all..