– Sorry, you're not allowed entry to the US on your ESTA.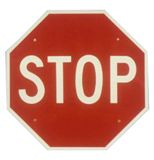 The lady who delivered this message to me this early Monday morning, worked behind the check-in counter at the Arlanda airport. I was there, trying to check-in to my two-leg trip to San Francisco to the Mozilla "all hands" meeting of the summer of 2017. My chance for a while ahead to meet up with colleagues from all around the world.
This short message prevented me from embarking on one journey, but instead took me on another.
Returning home
I was in a bit of a shock by this treatment really. I mean, I wasn't treated particularly bad or anything but just the fact that they downright refused to take me on for unspecified reasons wasn't easy to swallow. I sat down for a few moments trying to gather my thoughts on what to do next. I then sent a few tweets out expressing my deep disappointment for what happened, emailed my manager and some others at Mozilla about what happened and that I can't come to the meeting and then finally walked out the door again and traveled back home.
This tweet sums up what I felt at the time:
Going back home. To cry. To curse. To write code from home instead. Fricking miserable morning. No #sfallhands for me.

— Daniel Stenberg (@bagder) 26 juni 2017
Then the flood
That Monday passed with some casual conversations with people of what I had experienced, and then…
Someone posted to hacker news about me. That post quickly rose to the top position and it began. My twitter feed suddenly got all crazy with people following me and retweeting my rejection tweets from yesterday. Several well-followed people retweeted me and that caused even more new followers and replies.
By the end of the Tuesday, I had about 2000 new followers and twitter notifications that literally were flying by at a high speed.
I was contacted by writers and reporters. The German Linux Magazine was first out to post about me, and then golem.de did the same. I talked to Kate Conger on Gizmodo who wrote Mozilla Employee Denied Entry to the United States. The Register wrote about me. I was for a moment considered for a TV interview, but I think they realized that we had too little facts to actually know why I was denied so maybe it wasn't really that TV newsworthy.
These articles of course helped boosting my twitter traffic even more.
In the flood of responses, the vast majority were positive and supportive of me. Lots of people highlighted the role of curl and acknowledged that my role in that project has been beneficial for quite a number of internet related software in the world. A whole bunch of the responses offered to help me in various ways. The one most highlighted is probably this one from Microsoft's Chief Legal Officer Brad Smith:
I'd be happy to have one of our U.S. immigration legal folks talk with you to see if there's anything we can do to help. Let me know.

— Brad Smith (@BradSmi) 27 juni 2017
I also received a bunch of emails. Some of them from people who offered help – and I must say I'm deeply humbled and grateful by the amount of friends I apparently have and the reach this got.
Some of the emails also echoed the spirit of some of the twitter replies I got: quite a few Americans feel guilty, ashamed or otherwise apologize for what happened to me. However, I personally do not at all think of this setback as something that my American friends are behind. And I have many.
Mozilla legal
Tuesday evening I had a phone call with our (Mozilla's) legal chief about my situation and I helped to clarify exactly what I had done, what I've been told and what had happened. There's a team working now to help me sort out what happened and why, and what I and we can do about it so that I don't get to experience this again the next time I want to travel to the US. People are involved both on the US as well as on the Swedish side of things.
Personally I don't have any plans to travel to the US in the near future so there's no immediate rush. I had already given up attending this Mozilla all-hands.
Repercussions
Mark Nottingham sent an email on the QUIC working group's mailing list, and here follows two selected sections from it:
You may have seen reports that someone who participates in this work was recently refused entry to the US*, for unspecified reasons.

…

We won't hold any further interim meetings in the US, until there's a change in this situation. This means that we'll either need to find suitable hosts in Canada or Mexico, or our meeting rotation will need to change to be exclusively Europe and Asia.
I trust I don't actually need to point out that I am that "someone" and again I'm impressed and humbled by the support and actions in my community.
Now what?
I'm now (end of Wednesday, 60 hours since the check-in counter) at 3000 more twitter followers than what I started out with this Monday morning. This turned out to be a totally crazy week and it has severally impacted my productivity. I need to get back to write code, I'm getting behind!
I hope we'll get some answers soon as to why I was denied and what I can do to fix this for the future. When I get that, I will share all the info I can with you all.
So, back to work!
Thanks again
Before I forget: thank you all. Again. With all my heart. The amount of love I've received these last two days is amazing.