your case is still going through administrative processing and we don't know when that process will be completed.
Last year I was denied to go to the US when I was about to travel to San Francisco. Me and my employer's legal team never got answers as to why this happened so I've personally tried to convince myself it was all because of some human screw-up. Because why would they suddenly block me? I've traveled to the US almost a dozen times over the years.
The fact that there was no reason or explanation given makes any theory as likely as the next. Whatever we think or guess might have happened can be true. Or not. We will probably never know. And I've been told a lot of different theories.
Denied again
In early April 2018 I applied for ESTA again to go to San Francisco in mid June for another Mozilla All Hands conference and… got denied. The craziness continues. This also ruled out some of the theories from last year that it was just some human error by the airline or similar…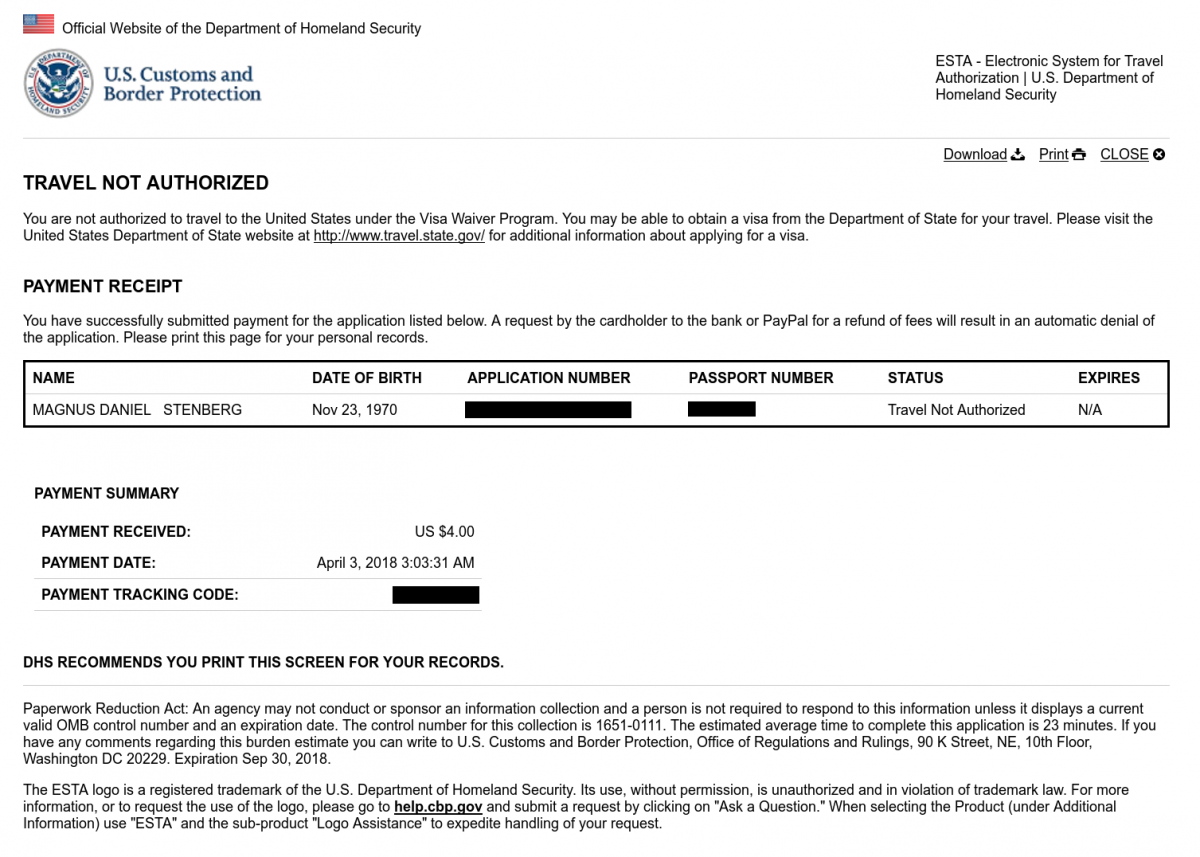 As seen on the screenshot, this decision has no expire date… While they don't provide any motivation for not accepting me, this result makes it perfectly clear that it wasn't just a mistake last year. It makes me view last year with different eyes.
Put in this situation, I activated plan B.
Plan B
I then applied for a "real" non-immigrant visa – even though it feels that having been denied ESTA probably puts me in a disadvantage for that as well. Applying for this visa means filling in a 10-something-page "DS-160" form online on a site that sometimes takes minutes just to display the next page in the form where they ask for a lot of personal details. After finally having conquered that obstacle, I paid the 160 USD fee and scheduled an appointment to appear physically at the US embassy in Sweden.
I acquired an "extraction of the population register" ("personbevis" in Swedish) from the Swedish tax authorities – as required (including personal details of my parents and siblings), I got myself a new mugshot printed on photo paper and was lucky enough to find a date for an appointment not too far into the future.
Appointment
I spent the better part of a fine Tuesday morning in different waiting lines at my local US embassy where I eventually was called up to a man at a counter behind a window. I was fingerprinted, handed over my papers and told the clerk I have no idea why I was denied ESTA when asked, and no, I have not been on vacation in Iraq, Iran or Sudan. The clerk gave me the impression that's the sort of thing that is the common reason for not getting ESTA.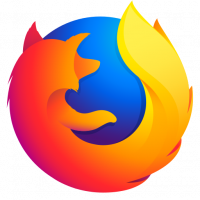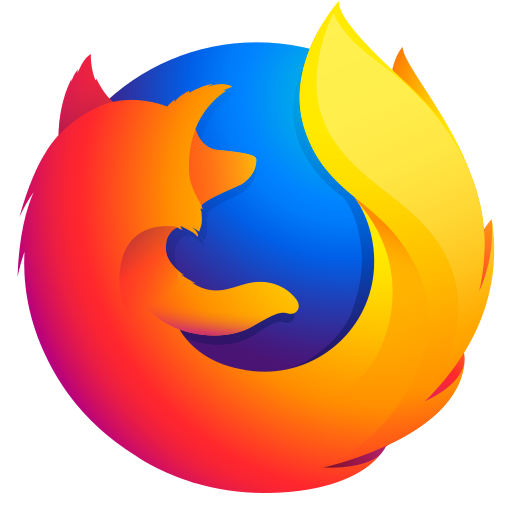 When I answered the interviewer's question that I work for Mozilla, he responded "Aha, Firefox?" – which brightened up my moment a little.
Apparently the process is then supposed to take "several weeks" until I get to know anything more. I explained that I needed my passport in three weeks (for another trip) and he said he didn't expect them to be done that quickly. Therefore I got the passport back while they process my application and I'm expected to mail it to them when they ask for it.
The next form
When I got back home again, I got an email from "the visa unit" asking me to fill in another form (in the shape of a Word document). And what a form it is! It might be called "OMB 1405-0226" and has this fancy title:
"SUPPLEMENTAL QUESTIONS FOR VISA APPLICANTS"
Among other things it requires me to provide info about all trips abroad (with dates and duration) I've done over the last 15 years. What aliases I use on social media sites (hello mr US visa agent, how do you like this post so far?), every physical address I've lived at in the last 15 years, information about all my employers the last 15 years and every email address I've used during the last 5 years.
It took me many hours digging through old calendars, archives and memories and asking around in order to fill this in properly. ("hey that company trip we did to Germany back in 2005, can you remember the dates?") As a side-note: it turns out I've been in the US no less than nine times the last fifteen years. In total I managed to list sixty-five different trips abroad for this period.

How do I submit my filled-in form, with all these specific and very private details from my life for the last 15 years, back to "the visa unit"? By email. Good old insecure, easy to snoop on, email! At least I'm using my own mail server (and it is configured to prefer TLS for connections) but that's a small comfort.
Is it worth it?
This is a very time and energy consuming process – I understand why this puts people off and simply make them decide its not worth it to go there. And of course I understand that I'm in a lucky position where I've not had to deal with this much in the past.
I have many friends and contacts in the US in both my personal and professional life. I would be sad if I couldn't go there ever again. It would give me grief personally since it'll limit where I can go on vacation and who out of my friends I can visit, but it will also limit my professional life as interesting Mozilla, Internet, open source and curl related events that I'd like to attend are frequently hosted there.
What's happening?
So the weeks came and went and on May 29th, six weeks after I was interviewed at the embassy, I checked the online service that allows me to check my application progress. It said "Case Created: April 17" and the following useful addition "Case Last Updated: April 17".
Wat? Did something go fatally wrong here? I emailed the embassy to double-check. I got this single sentence response back:
Dear Sir,

You don't have to do anything, your case is still going through administrative processing and we don't know when that process will be completed.
In my life I've visited a whole series of countries for which I've been required to apply for a visa. None of them have ever taken more than a few weeks, including countries with complicated bureaucracy like India and China. What are they doing all this time?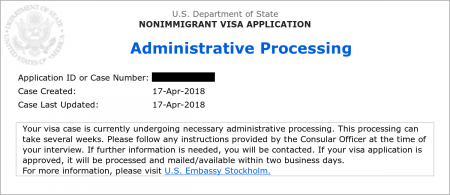 At the time of this writing, more than 100 days have passed and I have still not heard back from them. I know this is unusually long and I have a strong suspicion this means they will deny me visa, but for some reason they want to keep me unaware for a while more.
No All Hands in the US
I clearly underestimated the time this required so I missed our meeting in SF this year again…
Mozilla has since then announced that a number of the forthcoming All Hands conferences in the coming years will be held outside of the US. Unfortunately several of them are to be held in Canada, and there are indications that having being denied entry to the US means that Canada will deny me as well. But I have yet to test that!
Why they deny me?
Me knowingly, I've never broken a law, rule or regulation that would explain this. Some speculations me and others can think of include…
I'm the main author of curl, a tool that is used in a lot of security research and proof of concept exploits of security vulnerabilities
I'm the main author of libcurl, a transfer library that is one of the world's most widely used software components. It is subsequently also used extensively by malware and other offensive and undesired software.
I use the name haxx.se domain for many of my sites and email address etc. haxx or hacking could be interpreted by some, not as "To program a computer in a clever, virtuosic, and wizardly manner" but as the act to "gain unauthorized access to data in a system or computer".
It's been suggested that my presence at multiple conferences in the US over the years could've been a violation of the ESTA rules – but the rules explicitly allow this. I have not violated the ESTA rules.
Administrative Processing
It's been 102 days now. I'm not optimistic.