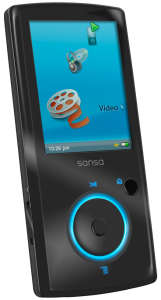 Ok, since we have Rockbox on Sansa e200 and e200R working and the support for the c200 series in the pipe, I feel it is about time to make a statement about the possibilities to get Rockbox for the new Sansa View player: it is (most probably) a totally different beast hardware-wise, so it will require a new port with all the associated hard work.
And no, SanDisk has not been in touch with us any further, so I would say it is highly unlikely they will donate any players or similar to us this time.
Once we get to see a detailed dissection with nice hires pictures we can tell for sure, but their talk about 30fps H.264 video in 320×240 resolution implies a major change.
As a summary, the View is indeed SanDisk's iPod Nano killer with double the flash size for the same amount of money, with a microsdhc-port, claimed longer battery life and only slightly thicker.
A funny detail: SanDisk previously did another player called Sansa View that they put on hold just before the summer!