Ainol V2000 is one of them Chinese portable media players we see pop up every now and then in a never-ending series – most of them never really reach the western markets.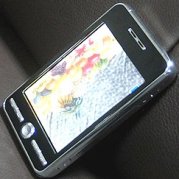 For this particular player the firmware is available, and by simply inspecting the contents of that we can see that it is packed with open source and free software, but nowhere is the source for this package to be found… (not all of these packages are GPL licensed of course)
GEMDOS, Mplayer (various parts), unzip by Gilles Vollant, MAME, Snes9x, FLAC, wxMusik, VisualBoyAdvance, SDL, FFmpeg, Avifile…
The image also seems to contain code from Real and possibly also from Microsoft (based on a guess on the file name strings)…
And if you want to dig around more, here's the 5.2 MB firmware file available for download. It seems Ainol's official web site doesn't even mention this V2000 model?
(Marcoen brought most of this to my attention.)