I'm a stupid person.
When I bought a new PC the last time, I went for a ASUS M2NPV-MX motherboard with built-in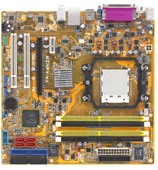 sound and nvidia graphics. I had been told that the nvidia open source driver is fine enough for 2D graphics, and since I never game or anything I'm perfectly fine with 2D-only.
Ok, it didn't take me long to realize two things about my motherboard:
The built-in audio "nVidia Corporation MCP51 High Definition Audio" is not supported by Linux/ALSA. It seems to detect it fine and it can show what it is and everything but it can't produce any sound.
The open source nVidia driver does not support DVI in resolutions beyond 1280×1024, and it made me wanna cry. I switched to VGA instead, only to realize that the analog output on this board is really noticeably worse than my previous and much older trustworthy Matrox card. (New PCI-Express board in the pipe.)
There's nobody to blame but myself. Lessons for next time: check the audio support better and do not go with nVidia graphics (at all) until they have a good open source driver – and really really check this. (No need to tell me there's a binary-only nvidia driver, I know about it but I hate it and I hate the inconveniences dealing with binary drivers cause when you upgrade your system etc.)
Funnily, the motherboard has built-in Ethernet (of course) but I don't normally use that, as I'm on 802.11g only. My work computer is on the upper floor and my (24 mbit) ADSL connection is downstairs and I like not having to connect all my computers with cables running all over.

So, back to the story, to get sound for my box I got an old SoundBlaster PCI card from a friend (hej Kjell) and inserted it in the last available PCI slot (the other slot has the wifi card).
Now, when I upgrade to a fresh new kernel version with Debian unstable the system boots up and defaults to the (detected but not working built-in) hda_intel stuff, and I must run alsaconf to select my ens1371-equipped SoundBlaster instead. But this is not enough. After I've ran alsaconf I can't get any sound out still, but I have to reboot and when it comes up again I must run aumixer and pull up the master volume and wham, now I have sound…
I'm quite sure this can be fixed in another way, but trying to learn this and figure how I can repair my situation to always work fine in the future is a mighty task that I haven't yet been able to overcome. I really should get involved in the ALSA project one day…