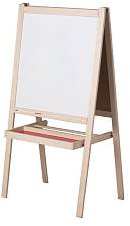 Today (uh make that yesterday since we're now past midnight here…) around lunch I drove my two kids over to my parents in law and got back to my house to host four friends (associated with a company that shall remain nameless in this blog – at least for now) coming over to discuss some work stuff.
It was great fun sitting in my living room chatting for a few hours, having a cup of coffee and instead of using a fancy company white board I brought my kids' drawing easel (oh we love IKEA). The picture is the actual model we used, called "MÅLA".
And we did indeed manage to get some good decisions done and some proper architectural stuff set. Admittedly, my kids' drawing pens were a bit thin and not as thick and "powerful" as the ordinary office white board pends tend to be.