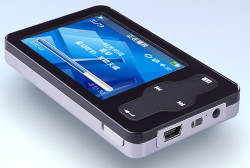 In the eternal chase for new targets to port Rockbox to, the turn seems to have come to the tiny Meizu M6 player.
This 55 gram thing is slightly smaller than a credit card (width and height at least) and it boasts a 2.4″ LCD, 4GB flash and is powered by a Samsung SA58700 (ARM940T core and a CalmRISC16 DSP thing). It has an FM tuner and built-in mic for recording as well.
There's of course the standard Rockbox forum thread,and an HW info page in the Rockbox wiki.
Other targets with the exact same SoC include the irivers E10, clix and S10. But none of those have a Rockbox port yet.