"Probably the only person in the whole of Sweden whose code is used by all people in the world using a computer / smartphone / ATM / etc … every day. His contribution to the world is so large that it is impossible to understand the breadth. "
(translated motivation from the Swedish original page)
Thank you everyone who nominated me. I'm truly grateful, honored and humbled. You, my community, is what makes me keep doing what I do. I love you all!
To list "Sweden's best developers" (the list and site is in Swedish) seems like a rather futile task, doesn't it? Yet that's something the Swedish IT and technology news site Techworld has been doing occasionally for the last several years. With two, three year intervals since 2008.
Everyone reading this will of course immediately start to ponder on what developers they speak of or how they define developers and how on earth do you judge who the best developers are? Or even who's included in the delimiter "Sweden" – is that people living in Sweden, born in Sweden or working in Sweden?
I'm certainly not alone in having chuckled to these lists when they have been published in the past, as I've never seen anyone on the list be even close to my own niche or areas of interest. The lists have even worked a little as a long-standing joke in places.
It always felt as if the people on the lists were found on another planet than mine – mostly just Java and .NET people. and they very rarely appeared to be developers who actually spend their days surrounded by code and programming. I suppose I've now given away some clues to some characteristics I think "a developer" should posses…
This year, their fifth time doing this list, they changed the way they find candidates, opened up for external nominations and had a set of external advisors. This also resulted in me finding several friends on the list that were never on it in the past.
Tonight I got called onto the stage during the little award ceremony and I was handed this diploma and recognition for landing at second place in the best developer in Sweden list.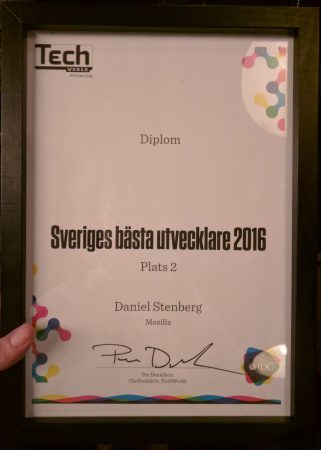 And just to keep things safe for the future, this is how the listing looks on the Swedish list page: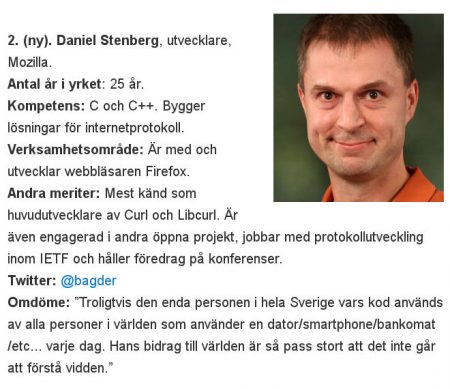 Yes I'm happy and proud and humbled. I don't get this kind of recognition every day so I'll take this opportunity and really enjoy it. And I'll find a good spot for my diploma somewhere around the house.
I'll keep a really big smile on my face for the rest of the day for sure!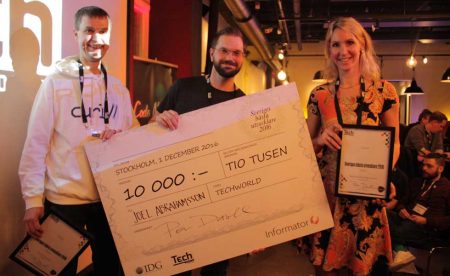 (Photo from the award ceremony by Emmy Jonsson/IDG)
Update
The winner was Joel Ambrahansson, in the middle on the photo above, and on third place and on the right in the photo is Mina Nakicenovic.