As I've mentioned several times before in this blog, I did a talk about Rockbox and reverse engineering at Fosdem 2010 Feburary 6-7 in Brussels, and since there was no "pre-arranged" video recording of the talks in the embedded devroom, Peter D'Hoye stepped up and recorded the whole thing using his Nokia n900 phone.
I decided to not make the slides for this talk available separately, as they were more or less the same as the ones I used for my FSCONS 2009 talk, so you can go watch them instead if this video isn't enough!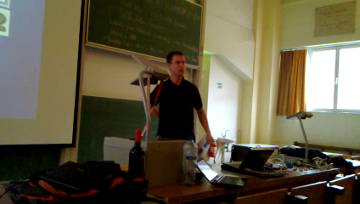 To view it, I suggest you use VLC or similar and tell it to stream directly from one of these URLs, the file is a 1.1GB one with 848×480 resolution running for 51 minutes. Annoyingly, none of the usual free online video services allow this long ones.
http://www.qnapclub.be/rockbox/fosdem2010_rockbox.mp4