I just want to show off my awesome new mittens that my dear mother gave me as a present when I turned 40 (at least at the party I held for my birthday, I actually turned 0x28 already back in November). To help you decode them I've framed a line of digits. The left one is supposed to be read before the right one.
As a bonus design detail, the digits on the thumb are made the same as on the part which the thumb covers on the photo.
The backside has nothing to decode but instead features a tux image, the same one on both mittens so the enclosed picture only shows the left-hand one.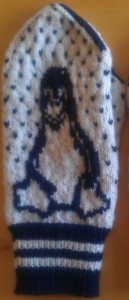 I'll admit that I didn't immediately decode the mittens myself when I gave it a first glance, and I blame the fact that no lowercase letters were used!
I used my mobile phone to take the pictures, so they're not really top-notch quality.
This will make the coming winter much more appreciated and I hope to impress a lot of friends when the few warm days of the Swedish summer have passed.