If I'm not part of the solution, I'm part of the problem and I don't want to be part of the problem. More specifically, I'm talking about female presence in tech and in particular in open source projects.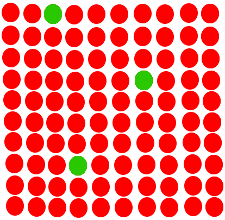 I've been an open source and free software hacker, contributor and maintainer for almost 20 years. I'm the perfect stereo-type too: a white, hetero, 40+ years old male living in a suburb of a west European city. (I just lack a beard.) I've done more than 20,000 commits in public open source code repositories. In the projects I maintain, and have a leading role in, and for the sake of this argument I'll limit the discussion to curl, libssh2, and c-ares, we're certainly no better than the ordinary average male-dominated open source projects. We're basically only men (boys?) talking to other men and virtually all the documentation, design and coding is done by male contributors (to a significant degree).
Sure, we have female contributors in all these projects, but for example in the curl case we have over 850 named contributors and while I'm certainly not sure who is a woman and who is not when I get contributions, there's only like 10 names in the list that are typically western female names. Let's say there are 20. or 30. Out of a total of 850 the proportions are devastating no matter what. It might be up to 3%. Three. THREE. I know women are under-represented in technology in general and in open source in particular, but I think 3% is even lower than the already low bad average open source number. (Although, some reports claim the number of female developers in foss is as low as just above 1%, geekfeminism says 1-5%).
Numbers
Three percent. (In a project that's been alive and kicking for thirteen years…) At this level after this long time, there's already a bad precedent and it of course doesn't make it easier to change now. It is also three percent of the contributors when we consider all contributors alike. If we'd count the number of female persons in leading roles in these projects, the amount would be even less.
It could be worth noting that we don't really have any recent reliable stats for "real world" female share either. Most sources that I find on the Internet and people have quoted in talks tend to repeat old numbers that were extracted using debatable means and questions. The comparisons I've seen repeated many times on female participation in FOSS vs commercial software, are very often based on stats that are really not comparable. If someone has reliable and somewhat fresh data, please point them out for me!
A design problem of "the system"
I would blame "the system". I'm working in embedded systems professionally as a consultant and contract developer. I've worked as a professional developer for some 20 years. In my niche, there's not even 10% female developers. A while ago I went through my past assignments in order to find the last female developer that I've worked with, in a project, physically located in the same office. The last time I met a fellow developer at work who was female was early 2007. I've worked in 17 (seventeen!) projects since then, without even once having had a single female developer colleague. I usually work in smaller projects with like 5-10 people. So one female in 18 projects makes it something like one out of 130 or so. I'm not saying this is a number that is anything to draw any conclusions from since it just me and my guesstimates. It does however hint that the problem is far beyond "just" FOSS. It is a tech problem. Engineering? Software? Embedded software? Software development? I don't know, but I know it is present both in my professional life as well as in my volunteer open source work.
Geekfeminism says the share is 10-30% in the "tech industry". My experience says the share gets smaller and smaller the closer to "the metal" and low level programming you get – but I don't have any explanation for it.
Fixing the problems
What are we (I) doing wrong? Am I at fault? Is the the way I talk or the way we run these projects in some subtle – or obvious – ways not friendly enough or downright hostile to women? What can or should we change in these projects to make us less hostile? The sad reality is that I don't think we have any such fatal flaws in our projects that create the obstacles. I don't think many females ever show up near enough the projects to even get mistreated in the first place.
I have a son and I have a daughter – they're both still young and unaware of this kind of differences and problems. I hope I will be able to motivate and push and raise them equally. I don't want to live in a world where my daughter will have a hard time to get into tech just because she's a girl.