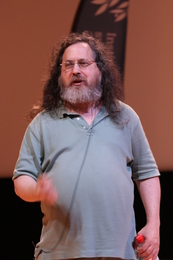 Claes and I started the foss-sthlm initiative a while ago, back in 2009. I'm sure I've mentioned that before. We've since then done a series of events where we've gathered foss hackers from the Stockholm region to speak about Free Software and Open Source for people interested in these issues. We've had 100+ persons attend to every event and I've considered them successful beyond our wildest expectations. Me and Claes originally expected to gather around 30 persons or so…
Interested?
So out of the blue I got a question from Giuseppe (who were talking to RMS at the time) if foss-sthlm/me would be interested in organizing an event in Stockholm with mr Stallman. It turned out mr Stallman was already considering coming to FSCONS in Gothenburg and when doing so he was looking around to see if he could do some more talks while in Sweden. Given this chance, I simply couldn't turn it down!
We coordinated with our pals behind FSCONS (the lovely crew at FFKP) so that we would jointly fund the event. We would split the bill for getting mr Stallman here and onward again to his subsequent gig, and the cost for his travel between Stockholm and Gothenburg.
How many?
Ironically, we already before had talked about not getting one of these super celebs to foss-sthlm events simply because of their immense popularity and the problem to get facilities to host events with them. How many would come to an RMS talk? I guessed at least 300 since among our previous events the most popular one got around 150 visitors.
How to get a place?
Commercial rooms for at least 300 people are expensive and luckily we quite soon got in touch with friends at KTH in Sweden – The Royal Institute of Technology, and they graciously offered to sponsor a room for 500. Awesome, we were on our way!
Sponsors?
South Pole didn't hesitate when I asked them (you rock, Jakob!), but immediately said they'd help us to sponsor the event. With them on board, we had all the financial stuff we needed covered and we could say "full steam ahead!" to everyone involved .
Fiddle like crazy
FSCONS had a fixed date for their conference already, but when would RMS come to Stockholm? After FSCONS or before? When would we be able to reserve the room and how would it all fit into RMS's schedule of other things. Several times we thought we had nailed it when something changed and we had to redo it all again. It took a good amount of emails back and forth until we finally scheduled and decided that he'd be in Stockholm first and then go FSCONS.
Open for registrations!
We went public about RMS coming to Sweden coordinated with FSCONS so that none of us would take advantage of this on the others' expense. On September 27th 13:22 we told everyone about it, and within less than eleven (11) hours all 500 seats in the room had been reserved!
Oops, full already
Wow. That was a bit overwhelming and not quite what I had expected. A bit tough, but well our room only fits 500 so…
Find a new place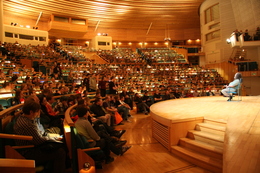 Friendly people on the foss-sthlm list very soon mentioned a new, much larger, facility that perhaps could be possible to host Stallman's talk. The huge Aula Magna room. I was a bit pessimistic about it, as I was just so happy already with having gotten a fine sponsorship for that first room.
New place, new sponsor
What are friends for? I can hardly describe it, but we have good friends in good places and wow, not many days passed until I got the excellent news that the Stockholm University's department for Computer and System's Sciences would help us get the room and pay the bill for it. This massive room fits 1194 sitting visitors. (Thanks Beatrice, you're awesome!)
More tickets
Amazingly enough, it was just a matter of time until we ran out of tickets again. Sure, this time there were tickets available for a longer time but well over a week before the RMS talk there were again no tickets available. The demand was still clearly very high. When the event was just a few days away, we sent out reminder emails and we got lots of ticket cancellations, perhaps 60-70 of them, and the tickets that were returned were immediately made available again on the ticket site and were soon signed up for again by other lucky souls.
When we closed the registration, there were just a few tickets still available. 1180 or so had been registered to listen to Richard M Stallman talk in Stockholm, a dull and grey November day 2011.
The speech
Richard is a charismatic person. He can speak to a huge audience for almost two hours, with no slides and no images and no script and still keep us all alert and interested. He mixes in dry humor and reflects back and recites episodes from previous speeches from time to time.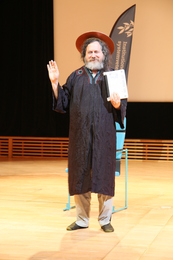 The topic was of course Free Software. About doing the right thing. About freedom and how you need to be prepared to sacrifice some things in order to gain and fight for freedom. For mr Stallman things are often black/white. It is either free and therefore right and fine, or it isn't free and therefore morally wrong and a bad idea. He also spent quite a lot of time explaining why calling it GNU/Linux is the right thing and how mr Torvalds doesn't care about the ethics and about doing the right thing for humanity.
I've been involved in Free Software (and in Open Source too, a term that RMS despises and encourages us all not to use) for many years but this was actually the first time I heard RMS talk live.
Thanks
This would not have been such a smooth ride with the efforts of Giuseppe, Claes and the eager help and assistance from all friends in #foss-sthlm. Thank you!
(The pictures in this blog entry are all CC-BY-SA licensed and are taken by Kjell Ericson)