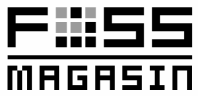 Claes, our friend from foss-sthlm and several Open Source adventures, has just fired off a new initiative: FOSS-Magasin. The site launched for real on the evening November 19th.
Where there's no real content on the site yet, Claes has set out a mission for himself and future contributors to create a site with technical content in Swedish that we geeks miss. This would be within areas such as FOSS, *nix, networking and more.
Tired of the poor state of technical and IT related media in Sweden that always seem to try to capture the really large audience and therefore always dumb down everything to a silly level, this is meant to be directed on more competent and interested readers.
The site is free and Claes is looking around for contributors to help hem get content to publish. I can only urge my Swedish friends to join up and help it get going, as I think it would be nice to get a proper Swedish tech site. For me, it will be especially interesting for things that actually happen in or otherwise is related to Sweden, as for all the rest I personally have no problems accessing English sites to get the info.