Here's the decoding procedure for the Parallel Spaghetti Decode challenge.
Step 1, the answers to all the questions. You will notice that I did have some fun in D6 and E2, but since they were boxes that weren't on the right track anyway I thought you'd still enjoy them.
Step 2, let me illustrate how the above answers will take you through the maze. The correct path is made up out of yellow boxes and the correct answers are shown with red arrows leading forward. Click it for full resolution version.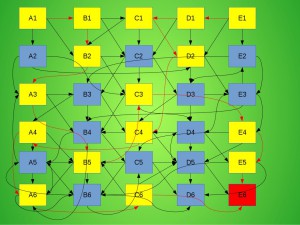 Step 3, those different colors in the "Word" column give you the words used for the two questions. If you rearrange them, the two questions become:
which tr command line option specifies delete characters
and
what curl command line option specifies POST requests
So, it took about 14 minutes at our event for Oscar Andersson to bring the correct answer to me:
-d