Some owners of the Sans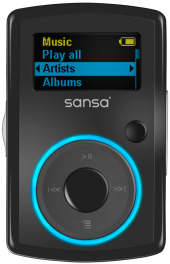 a Clip player from SanDisk noticed that it does playback of all songs with a minor pitch. Due to a flawed HW setup they don't do a proper 44,100 Hz but instead 43,791 Hz (0.993 times the target value) or something like that. According to some sources this problem might be fixed in the Sansa Fuze players now.
Bugs aren't really so surprising, perhaps what is surprising is that this bug has been around now for almost two years. To make matters worse, SanDisk now decided that due to them making cheap players people shouldn't expect them to be very good sound quality wise and therefore they can simply not fix the problems:
due to trade-off decisions that were made in engineering these products to deliver superior consumer value at what we believe are extremely attractive price points, our sound fidelity isn't perfect. We have re-evaluated the possibility of reducing the pitch variation and due to the engineering trade-offs the decision was made to stay with the current design. Very few listeners, however, have noticed or complained about it as an issue in actual practice.  For those who can detect sound differences with their naked ears during actual use and not via frequency analysis, our products may not be the best choice for them.
Clip owners out there now put their hope even more on Rockbox for Clip.