Michael "TheSeven" Sparmann is one of the primary magicians behind the recent linux4nano efforts and he has done a lot of the Rockbox port for the iPod Nano 2nd generation.
Some 10 hours or so he posted this neat picture: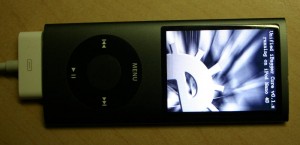 … showing off custom code running on an iPod Nano 4th generation. If you want to keep track of his/their work on recent iPods, follow @linux4nano on twitter. I do!
While this is not yet Rockbox on the device, this is a least proof it can be done and this could indeed be seen as the first tiny steps towards a full port! Good job Michael!