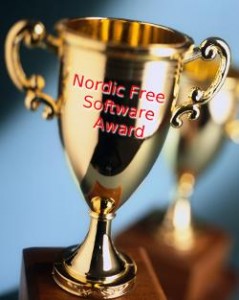 Remember the glorious year 2009 when I won the Nordic Free Software Award?
This award tradition that was started in 2007 was put on a hiatus after 2010 (I believe) and there has not been any awards handed out since, and we have not properly shown our appreciation for the free software heroes of the Nordic region ever since.
The award has now been reignited by Jonas Öberg of FSFE and you're all encourage to nominate your favorite Nordic free software people!
Go ahead and do it right away! You only have to the end of February so you better do it now before you forget about it.
I'm honored to serve on the award jury together with previous award winners.
This year's Nordic Free Software Award winner will be announced and handed their prize at the FOSS-North conference on April 23, 2018.
(Okay, yes, the "photo" is a montage and not actually showing a real trophy.)