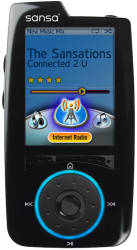 Readers of my blog or my site or almost whatever on the internet where my name would appear should know that two of my primary open source involvements are in the curl and the Rockbox projects.
Therefore I felt great pleasure yesterday when both of these worlds collided!
While investigating the internals of the SanDisk Sansa Connect mp3 player for the Rockbox project, fellow Robert Keevil discovered that it actually includes... libcurl! (actually, he discovered this before but I only realized it yesterday)
Of course I updated the companies that use curl page with this news...